Grandad Eusebio is getting ill and becoming a burden for the family. Everybody thinks he is completely gaga and the unbelievable things he tells just old man's chatter. Nobody believes him.
Then one night the Death turns up his place.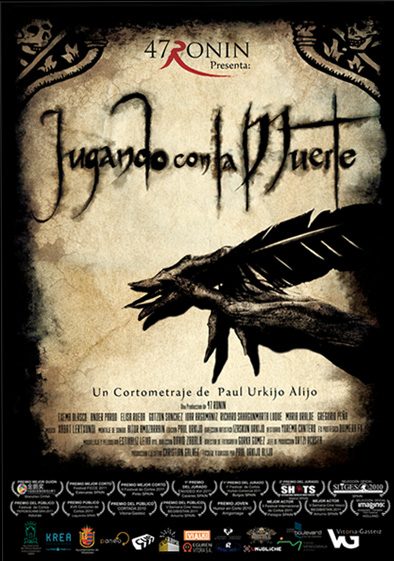 Year: 2010
Runnig time: 17mins 48 segs
Film with REDONE Raw 4k
Sound: Dolby Digital 5.1
Production: 47 Ronin s.l.
Executive Production: Chrístian Gálvez
Director: Paul Urkijo Alijo
Screenplay: Paul Urkijo Alijo
Director of Photography: Gorka Gomez Andreu
Editing: Paul Urkijo Alijo
OST: Xabat Lertxundi
Direction Assistant: David Zabala
Production Chiefs: Ortzi Acosta Calvo and Paul Urkijo Alijo
Production Assitant: Alejandro Urkijo García
Sound: Aitor Amorrazain, Aitor Acosta Calvo, Iosu Gonzalez
Script: Jaione Daubagna
Cinematographer assistant: Imanol Gomez de Segura
Postproduction: Paul Urkijo Alijo
Production designer: Izaskun Urkijo
Costume designer: Yurema Cantero
Make up: Estivaliz Leiva, Sonia Perez
Protesic FX: QUIMERA FX
Cast:
Txema Blasco, Ander Pardo, Gotzon Sanchez, Elisa Rueda, Ioar Argomaniz, María Uralde, Marta Gonzalez Luque, Richar Sahagun, Gregorio Peña.